House System
Education, if not incorporated with co-curricular activities cannot be considered workable and complete. The school is divided into four houses based on the names Highest Mountains of the world – Himalayas(Green House), Alps(Red House), Zagros(Yellow House) & Balkans(Blue House). The prime objective of these houses is to inculcate among the pupils a sense of collective responsibility and solidarity, a sense of team spirit and to encourage healthy competition. Each House is under the charge of a House Mistress along with House Captains and Prefects who shoulder the responsibility through monitorial system and endure a smooth and efficient functioning of the House. Inter-House competitions are organized from time to time in various fields.
Himalayas House
Zagros House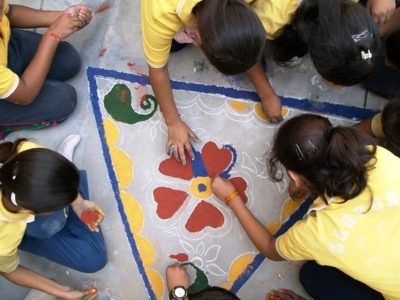 The Universe can be defined as everything that exists, everything that has existed, and everything that will exist.
An inter house activity-"Stepping into the Universe" was held as a part of the ongoing Science.
All the four houses were given a challenging task to let their imagination run wild and present a model about what kind of houses will we have future, what will be the means of transport like, how will people look like, and what new will there be in our already smart computers.
The students confidently displayed their presentations and creativity was at its best.