Academic Programmes
Asset: 
ASSET Stands for Assessment of Scholastic Skills through Educational Testing. It is a scientifically designed, skill-based assessment test. Rather than testing rote learning, it uses multiple-choice questions to focus on measuring how well SKILLS and CONCEPTS underlying the school syllabus have been understood by the student. The test provides information on the strengths and weaknesses of individual students and also entire classes.
Salient Features of ASSET
For students of classes 5-10 in English, Maths and Science
Based on the CBSE, ICSE, IGCSE, and major state boards'curriculum
Skill-based test
Provides detailed customised skill-wise feedback highlighting strengths and weaknesses
Benchmarks the student's performance against peers all over the country
Conducted in the school during school hours
Benefits
Provides feedback on real learning
Allows students to know they stand and pinpoints areas of strengths and weaknesses
Allows schools to benchmark themselves against the best and identify areas requiring improvement
Provides teachers with insights into where exactly their students stand compared to the national average or another section or school
Allows schools to focus on initiatives like teacher training in the areas where they are needed the most
Provides concrete ideas for improving assessment methods
Detailed Assessment:
Detailed Assessment (DA) aims at making a difference in the assessment process by providing assistance to teachers so that they can focus on their core competency as well as provide greater insight into topic misconceptions in students and how they can improve upon them for a brighter future with strong fundamentals.
Detailed Assessment, a topic-wise testing tool, aims at providing immediate feedback to teachers on the current level of student understanding on the topics taught and completed in the classroom
DA is a futuristic assessment tool that formulates customised assessment programs in accordance with the school curriculum and presents immediate detailed feedbacks on individual student performance
Aptence:
Aptence is a web-app for  students to improve Mathematical Thinking, Reasoning and Verbal Ability. It helps students to learn independently and proactively, and allows a child to advance steadily at a pace comfortable to him or her so that he or she can achieve his or her full potential.It also keeps on updating to make learning effective and engaging.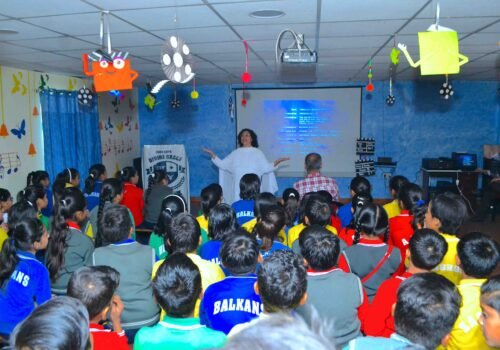 School Cinema:
School Cinema helps students learn to relate and reflect at a personal level. It helps in the holistic development of students, ensuring that they grow into confident and responsible individuals.
It benefits parent and teachers also. It enhances personal development, helps understand child psychology and also equips them with necessary skills valuable in professional and personal life.
Teaches valuable lessons of life
Enhances decision-making in children
Adults understand children better
Sharpens parenting & teaching skills.
Promotes assertiveness & empathy
Students appreciate good media & films
Brings parents into the circle of learning