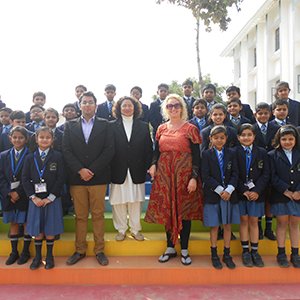 Guru Kripa Divine Grace Public School has been established in 2004 to cater to the rising demand for quality Education. The School has a proactive approach to education and its foundations are based on the philosophy that quality education requires consistent efforts and new directions in the area of teaching and learning.
It is the endeavour of the school to be student centered in its approach and provide a balanced curriculum that results in the development of the overall personality of the students and to help them in becoming thought leaders of tomorrow.
This is a challenging phase where the children enter into a formal system of education. The school boasts of the most modern facilities. No effort has been spared in creating a learning environment in which the students can seek excellence academically, socially, physically, artistically and spiritually. Designed around a central resource centre incorporating Smart Classes, Science lab, Humanities lab, Maths lab, Language lab, Computer lab and a Library , the entire campus has been planned to function as a dynamic and a connected whole.
Guru Kripa Divine Grace Public School is affiliated to the C.B.S.E curriculum. By adopting the C.B.S.E curriculum the child has an advantage to inculcate higher learning and compete for studying in professional institutions anywhere in India. The syllabus, teaching techniques and teaching materials are backed by an uncompromising commitment to maintain the highest standard of reliability and integrity.